Kia Orana
Thank you for purchasing the dancer of the year live stream ticket.
We are sending out another message to the email you provided in purchasing the ticket today so that you can download a copy of the Dancer of the Year 2022 video.
Key considerations before you download:
This video file is limited to only 1 single download per login.
Be sure of the device you want the video downloaded to; and it has space.
This download is a single video file
Format: MPEG-4 (.mp4)
File Size: 3.5 GB
Download on a reliable internet connection (may incur fee from your Internet Provider)
Steps to downloading:
MOCD will send to your email inbox which will look like this image below in your inbox (the email you used to purchase a ticket)

        2. Once you click into the page you will see a new order and links to download the video            like below. 
Note: dont click on the link unless this is the device you want the video to download and please note the video is 3.5GB so be aware of this as the file size is quite big.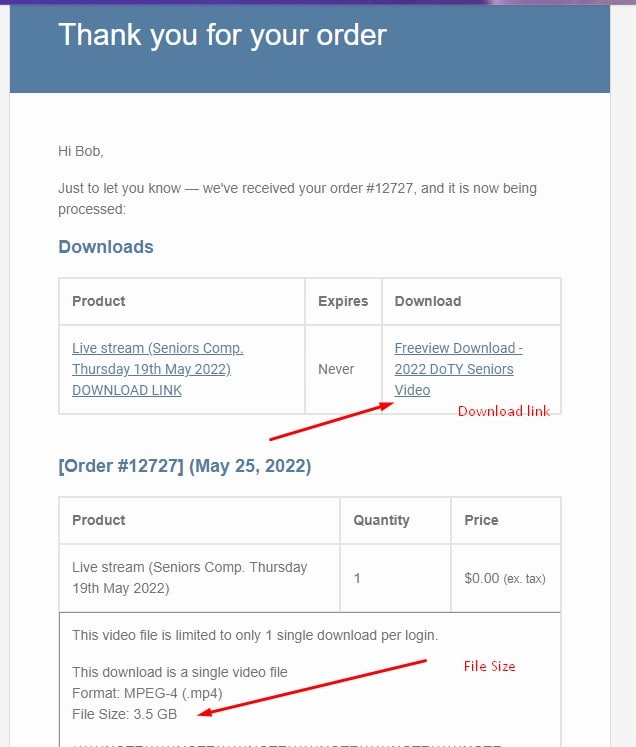 You have limited downloads per person and if you pass on this email it won't allow others to download.
If there are any issues please fill out form at the bottom of the page or contact us via FB messenger button on the website.
It is prohibited to re-use, edit, cut, resell or upload for public viewing, any content of this video without express confirmation and written approval from the Secretary of the Ministry of Cultural Development Cook Islands.
If you need further help or assistance please fill out form below